EXPLORING FEMALE WRITERS: THE MONO BOX PLAY READING GROUP
Since graduating from Drama School I'd been searching for a play reading group in London... but surprisingly couldn't find one aimed specifically at professional actors.
For me sight reading's such a vital skill. As someone who was diagnosed with dyslexia at school, cold reading terrified me and really affected my confidence when it came to approaching a script. After a lot of practise, however, it's become one of the skills I feel most comfortable with. I now find performing a script cold really helps build confidence in instinctive choices, and aligns you with the playwright and world of the play.
So... I decided to approach a number of theatre organisations to ask if they could offer studio space for a reading group for professional practitioners. The Mono Box graciously got back, not only offering the group a home, but providing guidance, mentorship, publicity, admin support and the plays for the group participants!
After discussion with Polly and Joan, we decided it would be great if the group was not only a chance to practise sight reading, but could also be an exploration of lesser known plays and writers as well as an opportunity to explore how we can progress as practitioners.
The group kicked off in February, the theme: Female Playwrights provoked many insights and much debate... It was so fun hosting the group, and as it's peer led I could join in with the readings too!
Surprisingly, all the initial participants were female! Though there was immediately a great dynamic, we did wonder why the exploration of female playwrights only attracted women... it would have been good to have a 'male perspective' during the discussion and we're hoping some guys will sign up for April...!
We all agreed that the group is a terrific opportunity, and think it's important that it continues and evolves. We're hoping to begin to include talks and collaborations with writers and also rehearsed readings with the potentiality for productions.
We explored four writers over the month...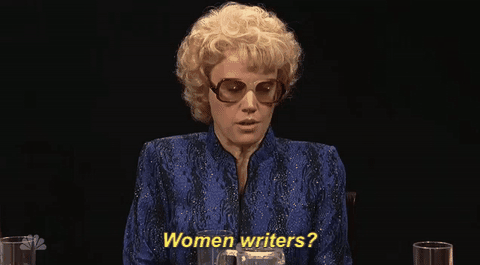 Week One:
We explored Githa Sowerby's Rutherford and Son. The play explores patriarchal power structures, highlighting the crises of the spirit stifled by industry. It was met with acclaim when first produced in 1912; an important time during the suffrage movement. Sowerby had written under a gender neutral synonym, and when revealed the author was female, she achieved "instant celebrity."
Week Two:
We read Annie Baker's The Aliens. Baker's forth produced play; sharing the 2010 Obie award for Best New American play with previous work Circle Mirror Transformation. The play centres around three male characters and focuses on those at the edges of American society. We wondered how the characters would be perceived if female, and drew the conclusion that women are offered less sympathy/leeway in terms of (lack of) social status.
Week Three:
We looked Judith Thompson and her first play The Crackwalker. Thomson wrote the play when 26, while working as a social worker in Ontario, Canada. The Crackwalker focuses on Kington's sub-working class, and addresses issues surrounding cultural and economic entrapment. We felt Thomson wrote exceptionally sensitive character observations, and were left wondering; is it enough for a playwright to offer questions without solutions?
Week Four:
We explored Ella Hickson's The Writer. Ella Hickson herself kindly donated copies of her 2018 play as well as copies of her Plays One anthology to the group! The Writer subverts sexual politics and theatre hierarchy. The piece triggered much debate and left some memebers of the group asking; "Do we have expectations of female playwrights to create characters that advocate feminist ideals; we're able to have male characters who're flawed or even villains, but still empathise with them. Are we able to perceive female characters in the same way, and is this what Hickson was partly alluding to in the play...?"
But the month wasn't all serious discussion. The debate carried on into the break and around the snack table- the highlight had to be Valentine's Day coconut and cocoa hearts, and home made vegan banana bread- yum! ...And the discoveries weren't all intellectual - one of them- that guacamole actually goes super well with dark chocolate!
I can't wait till next month - come aboard to look at REVOLUTIONARY PLAYWRIGHTS in April.
----
NEXT PLAY READING GROUP:
Weekly play reading group for professional actors/theatre practitioners.
The theme is: REVOLUTIONARY THEATRE
In response to Creative Acts; The Mono Box and Equity's March collaboration exploring theatre making and activism, this month we look at four playwrights whose work could be considered 'Revolutionary Theatre'.
​
Each week we will unpick a different text using research findings, improv, the re-imagining of scenes, and a playful approach to cold reading, and ask the overarching question: what constitutes revolutionary theatre, and is it being made now?
​
The workshop is predominately performance based, though we warmly invite directors and writers to participate in the process.
​
PREPARATION
You will be provided with 4 texts at your first session.
Book here: https://www.themonobox.co.uk/creativity